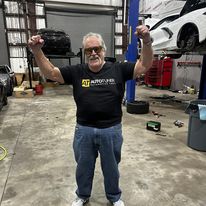 Our owner, Greg, has been an avid collector and enthusiast his entire life. His love for cars began at a young age and has grown into a lifelong passion. After many years of working in the industry, Greg decided to create his very own shop, dedicated to providing the highest level of service to fellow car enthusiasts.
At our shop, we specialize in both classic car restoration and performance modifications. Whether you're looking to restore a vintage vehicle to its original glory or add some serious horsepower to your modern sports car, we have the skills, knowledge, and experience to get the job done right.
Our Mission
Our team of skilled technicians is dedicated to providing personalized service and building lasting relationships with our customers. We take pride in our attention to detail and commitment to excellence, ensuring that every car that leaves our shop is in top condition.
We know that for car enthusiasts like ourselves, our vehicles are more than just a means of transportation – they're a passion, a lifestyle, and a way of expressing ourselves. That's why we strive to provide a level of service that goes beyond just fixing cars – we aim to enhance the entire driving experience.
Come visit us today and experience the difference that 30 years of passion, expertise, and dedication.
We Modify
We offer a variety of services come by and get a quote
Schedule Pickup
We also have short term rentals if you need an emergency vehicle 
We Repair
We not only handle performance  but also standard maintenance
We Restore
Need a classic car restored we can definitely help